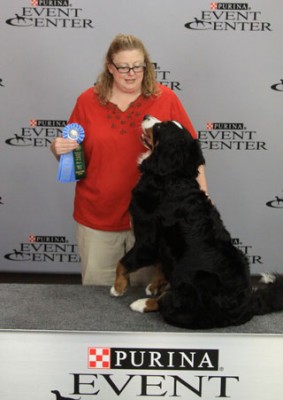 Yesterday, Beck and Bailey went Purina to show for her third and final leg for Bailey's Rally Novice. From what Becky described, Bailey's performance wasn't exactly stellar, but it was enough to get the needed leg to get Bailey's RN title. In fact, Becky didn't even go look at her score, thinking they'd missed the cut. That'll teach her to doubt herself!
Becky told me that Bailey once again kept her nose on the ground once she got in the ring. That's gonna be a challenge as Becky starts to work with Bailey on obedience and other titles. Knowing them, they'll get through it, although it may take a trick or two.
They went back today, and Bailey scored much better, and got another ribbon for her work. Just a little insurance. 🙂
Congrats gals — hard work well rewarded!
Becky really liked this photo, and I do too. Instead of mugging for the camera, the photographer (not me) caught them in a very tender moment, Darla to Smudge. That's what photography's all about — not just documentation, but capturing the emotion of a moment. Way cool.