After two days on the interstate system, today's drive was all state roads… and less. Frankly, I'd rather be on the back roads than on the interstate anyway.
The highlight of today was visiting Four Corners. I'd been wanting to visit this area for a while, and it was worth the wait. I'm kinda a geography geek, so the man-made confluence of four states is pretty irresistible. We took all the geeky pictures — straddling state lines, fingers in all four states — but it's the photo of our shoes that I liked best.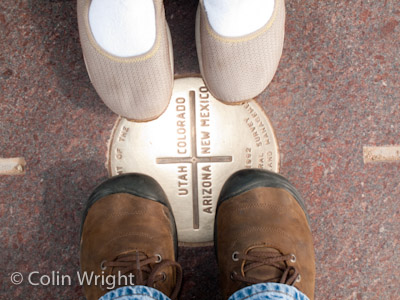 And in the "we're not in Kansas anymore" department… we just saw a commercial for a clothier from somewhere here in Utah, who apparently is focusing on making the well-dressed teenaged Mormon missionary. Talk about a specialized market!!!!