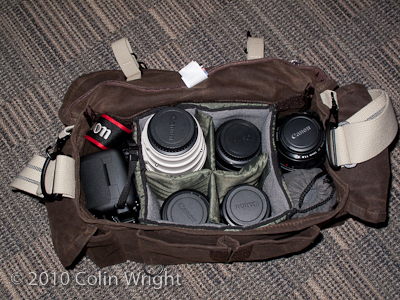 Jay was talking the other day about another camera bag photo he'd seen from one of my photography cohorts. I thought it would be nice to run the same kind of shot.
I'd just bought a new camera bag, a Domke 700-02A F-2, which sports a brown waxwear finish — great classic look! In the photo I've taken today, I've loaded it up with the gear I take on my travels:
Canon 7D body
Canon 100-400/3.5-5.6L
Canon 24-105/4L
Canon 10-22/3.5-5.6 EF-S
Canon 50/1.8
Canon MP-E 65/2.8 1x-5x macro
Canon 1.4x TC
Canon 2x TC
Canon 580EX II
tripod collars for the big lenses
Canon TC-80N3 cable release
Hoya 77mm Moose filter
Hoya NDX4 Neutral Density filter
It's heavy at times, but the Dokme bag is a trooper, will carry everything, and is a dream to work from. I've had a black F-2 for years, and it's served me well. But now, it's a blast from the past that I'll carry forward in my photographic future.