Cold, cold, cold this morning. And again, watching the weather, we realized that we were only about 100 miles ahead of the storm. Needless to say, we got on our horse early, and started driving before sunrise.
The farther east we got, the foggier it got. And the temperature continued dropping, well below freezing. It was then that I looked at my side mirror, and saw the ice.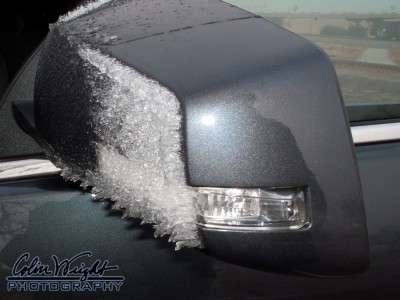 The fog was freezing to the Acadia as we plowed ahead. The roads felt ok, so I continued driving, knowing what lay behind us. The sun came up, the temps warmed, and the ice began falling off the car, all of which was good news.
The rest of the way was pretty uneventful, with us getting home after about 630 miles of driving today. And by crossing that distance, we avoided the storm (for now), and got into much warmer air.
We travelled 3087 miles on this journey, didn't hardly see any meteors from the Leonids, and were chased out of the west by the weather. Yeah, so the trip was a little shorter, but man, I had fun!