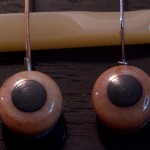 First, let me say that I'm loving my Taylor GS Mini. It's just a neat guitar, compact and full of punch. Amazing little instrument.
Having read a bunch of real nice things about the improvements to be gained by replacing the saddle and bridge pins with bone, I contacted Bob Colosi to order a saddle and set of bridge pins for the Mini (nicknamed "Peanut" BTW). Bob is really considered to be "the source" for replacement saddles, pins and nuts, made of all kinds of crazy natural materials. I elected to get mine fashioned from bone, dyed and aged to look like they'd had a few miles on 'em.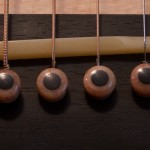 I also decided to get the ES-Go pickup for the Mini. Bryan at Fazio's had one in stock, and offered to install it for me. Win! Bryan had also suggested some Curt Mangan strings to warm the tone of the Mini beyond what the stock Elixir PB's were giving me, so in the process of installing the pickup, he also installed the new saddle, strings and pins. That's why I keep going back there — great customer service.
And after the work was done, the Mini sang! I mean, really sang. The depth of tone and the sustain in the instrument were way, way enhanced with these changes. It's a much, much warmer sound than a guitar of that size should have.
Between the strings and the bone products from Bob Colosi, I invested about $80, and those eighty bucks have made this already incredible guitar an incredible sounding instrument.