My new lens finally arrived today. After PayPal snafus and FedEx snafus, it finally got in my hands.
And it's a jewel.
First off, the thing looks pristine. I'm always leery of buying things on eBay, but I got such a great deal on the lens, lens sack and lens hood, it was hard for me to avoid. Frankly, if it's had three uses prior to me putting it on my 40D, I'd be surprised.
I decided to do something quick and dirty, so I took a $5 gold coin, and decided to photograph it. Below is the size of it as compared to a quarter — it's about dime-sized.
I've played with macro lenses before, but nothing like this beast. Everything I've read says that this is an incredibly rewarding lens, and can do wonderful things if you have the patience to practice with it. However, in my quick attempt at throwing everything together, here's what I got.
The image below was taken at 2x life size, and shows a bunch of detail that would be hard to see with any lens I've had in my camera bag.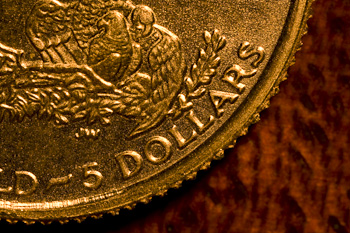 And now for the good stuff. The one below is at 5x life size, and all I can say is "Wow!"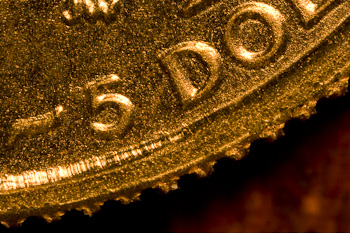 Stay tuned for more playing with this really outstanding lens!